Piano Teachers Giving Piano Lessons in England, Ireland, Scotland, and Wales
Learn to Play the Piano Make Music
New Toyo pianos for sale Romsey, Hampshire SO51 by Triangle Pianos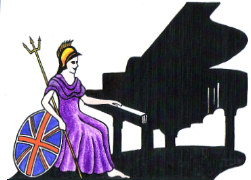 UK Piano Page
Triangle Pianos Ltd
Piano Department

Director Paul Kibble has been in the piano trade for 31 years and uses all his experience to ensure we stock a superb range of new & used pianos. With his expert guidance, choosing the right piano will be a pleasure!
Sheet Music Department

Composer Pam Wedgwood helps a customer choose music from our extensive range. With over 20,000 books in stock, it's easy to find exactly what you want or browse for something new! We stock music for all instruments - not just piano!!

Monday to Saturday 9.30am - 5pm

Early Closing Thursday 9.30am - 1pm

School Holidays Friday & Saturday Only 9.30am- 5pm
5 - 8 Chester Court
Albany Street
Camden Town, London NW1 4BU
England

For 100 years Markson Pianos have been one of the
Your Advertisement
Could be here
With a
Paid listing
We are very happy to introduce our next London

12-05-2018 11:00AM

100 years of Broadwoods Barless Grand a Talk by

14-06-2018 09:00PM

Mozart Andante with Variations in G major KV501

11-04-2018 08:30PM
100 years of Broadwoods Barless Grand a Talk by

14-06-2018 09:00PM

Practice performing on a Bechstein grand. All

15-01-2020 01:10PM
Stage and Digital Pianos?
A stage piano is an electronic keyboard designed for use in live onstage performances by professional musicians. They have many of the same features as a digital piano but very often do not have built-in speakers. The current Yamaha CP-300 breaks this rule and has built in speakers. This is not a common practice among manufacturers as stage pianos are usually built with mobility in mind. Speakers can add considerable, extra, unwanted weight to a stage piano. Stage pianos can often have different keyboard actions and are worth paying attention to, that is if you are considering a stage piano. In the case of the Kurzweil SP series, they produce a SP2 with semi-weighted keyboard action and a SP2X which has a fully weighted hammer action keyboard. Bear in mind that "fully weighted", as is the case here with the SP2X, does not mean the same a progressive hammer action (see later). While the sounds on stage pianos is often much wider than what you would find on an average digital piano, stage pianos have far fewer voices than a typical electronic synthesiser. Stage pianos usually have a smaller selection of voices as mentioned in a previous question.