A Wealth of Information on Pianos, Tuning, Piano History, Makers, Movers,
Teachers, Accompanists and Piano Entertainers in the UK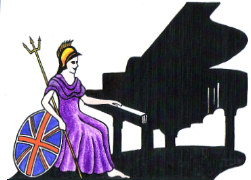 UK Piano Page
Your Advertisement
Could be here
With a
Paid listing
We are very happy to introduce our next London

12-05-2018 11:00AM

100 years of Broadwoods Barless Grand a Talk by

14-06-2018 09:00PM

Mozart Andante with Variations in G major KV501

11-04-2018 08:30PM
100 years of Broadwoods Barless Grand a Talk by

14-06-2018 09:00PM

Practice performing on a Bechstein grand. All

15-01-2020 01:10PM
Did You Know Piano Facts
What is the difference between Overdamping and Underdamping?

Overdamping is a system whereby the piano damping mechanism (the bit that shuts the piano up) is situated above the hammer strike line. Underdamping is where the piano dampers are placed below the hammer strike line. Advantages and disadvantages. Overdamping. Imagine an elastic band three-foot long, you twang it and then put your finger near to the end of the elastic band, to stop it vibrating. This is overdamping.

Take the same elastic band and place your finger near the centre to stop it from vibrating this is underdamping, which of course is more efficient. Overdamping is controlled by gravity where as underdamping is controlled by adjustable springs so on the whole underdamping is far more efficient than overdamping. However, there is one disadvantage with underdamping. That is, if the dampers are incorrectly aligned to the nodes and antinodes of the vibrating string this will result in, the dampers when they come in contact with the string, emphasising certain harmonics on the piano, thus giving you a harmonic ring, this is more common on small uprights and small grandís as the margin of tolerance decreases as the piano becomes smaller.