A Wealth of Information on Pianos, Tuning, Piano History, Makers, Movers,
Teachers, Accompanists and Piano Entertainers in the UK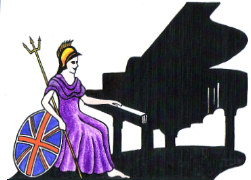 UK Piano Page
Your Advertisement
Could be here
With a
Paid listing
Two contrasting passions showcased in the same

16-06-2018 07:40PM

We are very happy to introduce our next London

12-05-2018 11:00AM

100 years of Broadwoods Barless Grand a Talk by

14-06-2018 09:00PM
Did You Know Piano Facts
1711

John Shore was the inventor of the tuning fork. He became a royal trumpeter in 1688 and rose to sergeant trumpeter in 1708. He was also lutenist to the Chapel Royal, appointed in 1706. A lute is aguitar-like instrument with a long neck and a pear-shaped body,much used in the fourteenth to seventeenth centuries. The instrument is notoriously difficult to keep in tune, and Shore devised the tuning fork to help him tune his lute. He died in 1752.