Piano Teachers Giving Piano Lessons in England, Ireland, Scotland, and Wales
Learn to Play the Piano Make Music
Yamaha Kawai digital pianos for sale in Dublin, County Dublin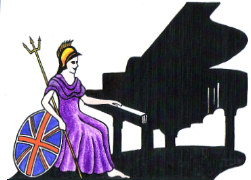 UK Piano Page
Pianos Plus
Pianos Plus is Irelands' premier piano retail organisation and the most successful piano company in Ireland, because we believe, that excellence in service to our customers is of paramount importance. What we do? Our objective is to supply quality pianos, competitively priced and backed up with the best technical support available. We only stock pianos which, in our opinion, are among the top brands in the world today.
OPENING HOURS:
Monday-Friday 9.30am-5.30pm
Saturday 11.00am-5.00pm
Woodacre Farm
Warrington Road
Lymm, Cheshire WA139BT
England

As well as a large selection of New and

38 Joel Street
Northwood Hills
Northwood, London HA6 1PA
England

We are importers and distributors of new and
Your Advertisement
Could be here
With a
Paid listing
Haydn Piano Concertos performed by Juan Rezzuto

29-09-2018 05:00PM

Two contrasting passions showcased in the same

16-06-2018 07:40PM

We are very happy to introduce our next London

12-05-2018 11:00AM
Haydn Piano Concertos performed by Juan Rezzuto

29-09-2018 05:00PM

Practice performing on a Bechstein grand. All

15-01-2020 01:10PM
Buying a piano
Buying a piano is much like buying a house. You have to look around first to find out what exactly you want. By studying what is available both online and in piano shops, auctions, newspaper listings etc, you get a better feel for the kind of the piano you want and how much it is likely to cost. You then visit and try out the pianos. When you buy a house, you get a surveyor to look at it. The surveyor will crush any unrealistic dreams you may have of the house. When you buy a second-hand piano, you get a piano tuner-technician to look at it. A piano is essentially a big box with string in. Unless you are an expert yourself, you won't know what to look for.
You can find many second-pianos for sale on shops websites. Save yourself a trip by asking the right questions via e-mail or by telephone at the piano shop. Has it got a guarantee?
What colour is it?
Is there a photo?
How old is it?
Who were the last owners?
Is there anything wrong with it?
is it tuned up to concert pitch A440?
Who are the makers?
Never buy a piano without trying it out first. It's advisable though not necessary to have a piano technician check it out.