Piano Teachers Giving Piano Lessons in England, Ireland, Scotland, and Wales
Learn to Play the Piano Make Music
Yamaha, Steinmayer pianos Surbiton, Surrey KT6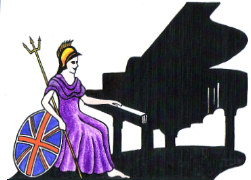 UK Piano Page
Piano Warehouse (Surbiton)
We are one of the largest retailers of both new and secondhand pianos in the UK, with showrooms in Kentish Town, North West London and Surbiton, Surrey. We are a main dealer of Yamaha, Steinmayer, Weber, Kemble and Gors & Kallmann pianos.

We are dedicated piano specialists covering everything from sales and rentals, to restoration, repairs and tuning. Our technicians are experienced in all aspects of piano maintenance, restoration and tuning.

We pride ourselves on being able to offer the best deals to our customers due to our size and ability to get the best prices from suppliers. We also aim to offer the very best level of service and aftercare once your piano has been installed in your home.
We are fully geared to offer the most comprehensive nationwide delivery, and aftersales service, with our specialist moving teams and network of tuner technicians across the UK.
We have been selling pianos since 1975 that is over 36 years of succesful business!
5 - 8 Chester Court
Albany Street
Camden Town, London NW1 4BU
England

For 100 years Markson Pianos have been one of the
Buying a piano
Buying a piano is much like buying a house. You have to look around first to find out what exactly you want. By studying what is available both online and in piano shops, auctions, newspaper listings etc, you get a better feel for the kind of the piano you want and how much it is likely to cost. You then visit and try out the pianos. When you buy a house, you get a surveyor to look at it. The surveyor will crush any unrealistic dreams you may have of the house. When you buy a second-hand piano, you get a piano tuner-technician to look at it. A piano is essentially a big box with string in. Unless you are an expert yourself, you won't know what to look for.
You can find many second-pianos for sale on shops websites. Save yourself a trip by asking the right questions via e-mail or by telephone at the piano shop. Has it got a guarantee?
What colour is it?
Is there a photo?
How old is it?
Who were the last owners?
Is there anything wrong with it?
is it tuned up to concert pitch A440?
Who are the makers?
Never buy a piano without trying it out first. It's advisable though not necessary to have a piano technician check it out.