Piano Teachers Giving Piano Lessons in England, Ireland, Scotland, and Wales
Learn to Play the Piano Make Music
piano Teacher in Wymondham, Norfolk Mrs G Bullimore Piano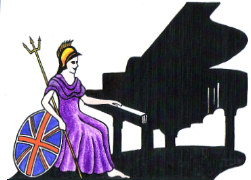 UK Piano Page
Mrs G Bullimore
I have been teaching the piano for 30 years and during that time have enjoyed every minute with students of all ages. I teach basically via the classical route and students can learn jazz and pop too.
I work at the speed of the student so there is plenty of time for them to understand the subject they are exploring. I encourage the youngsters to play in concerts at their schools and I give them the option if they wish to take the Associated Board examinations.
I find that playing the piano helps people with other subjects too and also can be a way of relaxing from the day to day activities.
Additional User Information
Camden, London
England

Experienced piano teacher and accompanist

Great Harwood, Lancashire
England

I teach piano & violin from my own home in Great
Your Advertisement
Could be here
With a
Paid listing
Juan Rezzuto, Haydn performer is back to delight

03-04-2020 05:34PM

This concert has been cancelled. Due to the

04-11-2019 05:04PM

WKMT London Piano Studios have just arranged a new

24-10-2019 04:39PM
Did You Know Music Facts
A list of Classical Genres of Music

Avant-Garde
Baroque
Chamber Music
Chant
Choral
Classical Crossover
Early Music
High Classical
Impressionist
Medieval
Minimalism
Modern Composition
Opera
Orchestral
Renaissance
Romantic
Wedding Music