Piano Teachers Giving Piano Lessons in England, Ireland, Scotland, and Wales
Learn to Play the Piano Make Music
piano Teacher in Wymondham, Norfolk Mrs G Bullimore Piano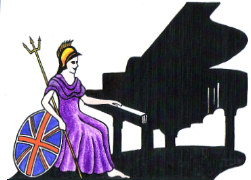 UK Piano Page
Mrs G Bullimore
I have been teaching the piano for 30 years and during that time have enjoyed every minute with students of all ages. I teach basically via the classical route and students can learn jazz and pop too.
I work at the speed of the student so there is plenty of time for them to understand the subject they are exploring. I encourage the youngsters to play in concerts at their schools and I give them the option if they wish to take the Associated Board examinations.
I find that playing the piano helps people with other subjects too and also can be a way of relaxing from the day to day activities.
Additional User Information
Great Harwood, Lancashire
England

I teach piano & violin from my own home in Great

Camden, London
England

Experienced piano teacher and accompanist
Broadwood Barless
Piano Book
Juan Rezzuto, Haydn performer is back to delight

03-10-2020 05:30PM

This concert has been cancelled. Due to the

28-03-2020 06:30PM

WKMT London Piano Studios have just arranged a new

23-11-2019 03:00PM
Did You Know Piano Facts
Temperament

Temperament is both the process and result of making slight changes to the pitches of a pure musical scale, so that the octave may be conveniently divided into a usable number of notes and intervals. In the history of Western music's 12-note octave tradition, there have been several, fundamentally different forms of temperament applied to the developing keyboard. Music suffers when performed in a tuning that is different than that which the composer used in its creation.

Well Temperament Keyboards

Well Temperament Keyboards may be tuned so that all keys are musically usable, but contain varying degrees of the "wolf". This is the tuning used in this recording. Between the Early Baroque and Romantic eras, the popular tuning was something between Meantone and Equal Temperament. This era was a brief, transitional stage in temperament history, but considering the music composed during this period, its importance cannot be overlooked. This style of tuning is called "Well Temperament" following the use of the term by J.S. Bach. The term refers to a genre, rather than a specific temperament, as there were many Well Temperaments in use between 1700 and 1825.