Piano Teachers Giving Piano Lessons in England, Ireland, Scotland, and Wales
Learn to Play the Piano Make Music
Loch Ness Pianos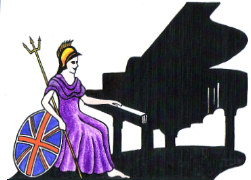 UK Piano Page
Loch Ness Pianos
Piano sales
We offer a range of pianos, both new and used, with prices to suit all pockets. Of course, we also keep a selection of piano stools, new, secondhand, duet, and rising in all finishes.

Although based in Scotland near Inverness, we serve the whole country and deliver promptly and professionally nationwide.
Piano Rental
TRY-BUY. Hire a new piano and stool for 6 months @ £50pm plus £100 deposit. We will deliver free (within 30 miles Inverness).
After 6 months, if you decide to buy, all the payments and deposit are deducted from the price. If you decide to return the piano we will collect it for a nominal sum of £50 deducted from the deposit (within 30 miles of Inverness). You may continue hiring @ £50 pm, but any subsequent purchase will only qualify for the original 6 months hire and deposit.
Woodacre Farm
Warrington Road
Lymm, Cheshire WA139BT
England

As well as a large selection of New and

38 Joel Street
Northwood Hills
Northwood, London HA6 1PA
England

We are importers and distributors of new and

95 Strongbow Crescent
Eltham, London SE9 1DW
England

AMH Pianos Services London is proud to let you
Your Advertisement
Could be here
With a
Paid listing
Juan Rezzuto, Haydn performer is back to delight

03-04-2020 05:34PM

This concert has been cancelled. Due to the

04-11-2019 05:04PM

WKMT London Piano Studios have just arranged a new

24-10-2019 04:39PM
Buying a piano
Buying a piano is much like buying a house. You have to look around first to find out what exactly you want. By studying what is available both online and in piano shops, auctions, newspaper listings etc, you get a better feel for the kind of the piano you want and how much it is likely to cost. You then visit and try out the pianos. When you buy a house, you get a surveyor to look at it. The surveyor will crush any unrealistic dreams you may have of the house. When you buy a second-hand piano, you get a piano tuner-technician to look at it. A piano is essentially a big box with string in. Unless you are an expert yourself, you won't know what to look for.
You can find many second-pianos for sale on shops websites. Save yourself a trip by asking the right questions via e-mail or by telephone at the piano shop. Has it got a guarantee?
What colour is it?
Is there a photo?
How old is it?
Who were the last owners?
Is there anything wrong with it?
is it tuned up to concert pitch A440?
Who are the makers?
Never buy a piano without trying it out first. It's advisable though not necessary to have a piano technician check it out.