A Wealth of Information on Pianos, Tuning, Piano History, Makers, Movers,
Teachers, Accompanists and Piano Entertainers in the UK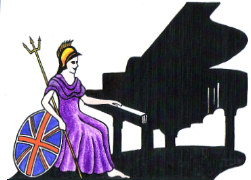 UK Piano Page
Billion Streaming Pianist & Composer, Helen Jane Long, in Concert this July!
Overview
Date Submitted: 22-05-2019 05:02PM
Last Updated: 22-05-2019 05:12PM
No upcoming event dates.
Description
Known for her memorable piano themes and evocative string arrangements, in 2018 British composer Helen Jane Long became the first billion streaming pianist and artist in the world.

Her kaleidoscopic talent is a wonder to behold. Shift the lens in one direction and you see the remarkably gifted multi-instrumentalist, turn it again and you find the highly accomplished composer and recording artist.
Helen's signature sound is epic, cinematic and emotional. It inspires, it captivates and warms the soul.

Ahead of her US tour, at the Holy Trinity, Guildford, Helen Jane Long will be performing music from her six piano albums including the famous 'Aviators' written for British Airway's multi-million-pound campaign.

Special bonus: there will be an opportunity to meet and greet after the show and get merchandise signed.

Tickets available at www.helenjanelong.com
Image
Admission/Ticket Details
https://www.eventbrite.com/e/helen-jane-long-live-in-concert-tickets-58756776099
Location
Location: Holy Trinity Church High Street Guildford Surrey GU1 3RR England
Venue Name: Holy Trinity Church
Broadwood Barless
Piano Book
Joseph Haydn piano concerto and W.A. Mozart Violin

29-02-2020 06:30PM

WKMT London Piano Studios have just arranged a new

23-11-2019 03:00PM

6th Annual Piano Competition - AGPMF 2019 Around

23-11-2019 09:00AM
Joseph Haydn piano concerto and W.A. Mozart Violin

29-02-2020 06:30PM

The Morecambe Bay Piano Group was set up to extend

22-12-2021 01:00PM
Did You Know Piano Facts
1730

The firm of Kirkman piano makers was founded in 1730, according to the Pierce Piano Atlas. However, Kirkman inherited the business from Tabel's wife, whom he married one month after Tabel's death. Tabel was a harpsichord maker who trained with Ruckers. He came to London in 1680 and set up making harpsichords. Abraham Kirkman, who was born in 1710 inBischweiler near Strasbourg, came to work for Tabel. In 1742 hemoved to Great Pulteney Street. These are some later dates and locations for him:
(1817) (Grand Pianoforte Maker to Her Majesty and H.R.H. The PrinceRegent)
(1818-1832) (Grand Pianoforte Maker to His Majesty) 19 Broad Street,Golden Square
(1822-1896) Kirkman, Joseph (Junior) 67 Frith Street, Soho
(1831) 3 Soho Square
(1846) 9 Dean Street
(1848) DuLour's Place, Golden Square
(1864) 21 Broad Street, Golden Square
(1894) 12A George Street, Hanover Square
They had associates with Collard who were based at 50 Bond Street,London, the same as Chappell. There is a fine example of a Kirkmanharpsichord at the Colt Clavier private collection. In 1896Georgiana Kirkman sold the business to Collard's at cost.