Piano Teachers Giving Piano Lessons in England, Ireland, Scotland, and Wales
Learn to Play the Piano Make Music
Piano Teachers Utah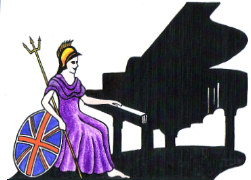 UK Piano Page
Learn to Play the Piano
Need a Piano Teacher?
This is a list of teachers who offer piano, music, and keyboard lessons in the United Kingdom and Ireland. Sorted in county order. Click on your county and this will take you to your nearest qualified piano teacher. Find a local piano teacher and learn to play the piano and make music private piano tutoring.
If you are a piano teacher and wish to be included in this list, please click on add a listing here above and fill in the forms provided, it's free.
Sorry, No Results. Please enter your town in the search box above as there may be someone who covers your area.
Great Harwood, Lancashire
England

I teach piano & violin from my own home in Great

Holloway, London N7 6DH
England

PIANO LESSONS FOR ADVANCED STUDENTS WITH HIGHLY

Camden, London
England

Experienced piano teacher and accompanist
Your Advertisement
Could be here
With a
Paid listing
Juan Rezzuto, Haydn performer is back to delight

03-10-2020 06:30PM

This concert has been cancelled. Due to the

28-03-2020 07:30PM

WKMT London Piano Studios have just arranged a new

23-11-2019 04:00PM
Juan Rezzuto, Haydn performer is back to delight

03-10-2020 06:30PM

The Morecambe Bay Piano Group was set up to extend

22-12-2021 02:00PM
Stage and Digital Pianos?
A stage piano is an electronic keyboard designed for use in live onstage performances by professional musicians. They have many of the same features as a digital piano but very often do not have built-in speakers. The current Yamaha CP-300 breaks this rule and has built in speakers. This is not a common practice among manufacturers as stage pianos are usually built with mobility in mind. Speakers can add considerable, extra, unwanted weight to a stage piano. Stage pianos can often have different keyboard actions and are worth paying attention to, that is if you are considering a stage piano. In the case of the Kurzweil SP series, they produce a SP2 with semi-weighted keyboard action and a SP2X which has a fully weighted hammer action keyboard. Bear in mind that "fully weighted", as is the case here with the SP2X, does not mean the same a progressive hammer action (see later). While the sounds on stage pianos is often much wider than what you would find on an average digital piano, stage pianos have far fewer voices than a typical electronic synthesiser. Stage pianos usually have a smaller selection of voices as mentioned in a previous question.