Piano Teachers Giving Piano Lessons in England, Ireland, Scotland, and Wales
Learn to Play the Piano Make Music
Piano Teachers County Derry / Londonderry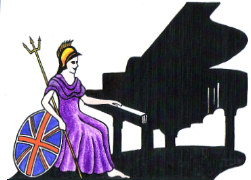 UK Piano Page
Learn to Play the Piano
Need a Piano Teacher?
This is a list of teachers who offer piano, music, and keyboard lessons in the United Kingdom and Ireland. Sorted in county order. Click on your county and this will take you to your nearest qualified piano teacher. Find a local piano teacher and learn to play the piano and make music private piano tutoring.
If you are a piano teacher and wish to be included in this list, please click on add a listing here above and fill in the forms provided, it's free.
Sorry, No Results. Please enter your town in the search box above as there may be someone who covers your area.
Camden, London
England

Experienced piano teacher and accompanist

Great Harwood, Lancashire
England

I teach piano & violin from my own home in Great
Did You Know Piano Facts
What is the difference between Overdamping and Underdamping?

Overdamping is a system whereby the piano damping mechanism (the bit that shuts the piano up) is situated above the hammer strike line. Underdamping is where the piano dampers are placed below the hammer strike line. Advantages and disadvantages. Overdamping. Imagine an elastic band three-foot long, you twang it and then put your finger near to the end of the elastic band, to stop it vibrating. This is overdamping.

Take the same elastic band and place your finger near the centre to stop it from vibrating this is underdamping, which of course is more efficient. Overdamping is controlled by gravity where as underdamping is controlled by adjustable springs so on the whole underdamping is far more efficient than overdamping. However, there is one disadvantage with underdamping. That is, if the dampers are incorrectly aligned to the nodes and antinodes of the vibrating string this will result in, the dampers when they come in contact with the string, emphasising certain harmonics on the piano, thus giving you a harmonic ring, this is more common on small uprights and small grandís as the margin of tolerance decreases as the piano becomes smaller.