Piano Teachers Giving Piano Lessons in England, Ireland, Scotland, and Wales
Learn to Play the Piano Make Music
Piano Teachers Westbury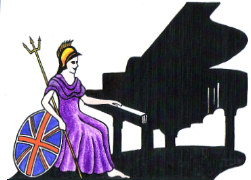 UK Piano Page
Learn to Play the Piano
Need a Piano Teacher?
This is a list of teachers who offer piano, music, and keyboard lessons in the United Kingdom and Ireland. Sorted in county order. Click on your county and this will take you to your nearest qualified piano teacher. Find a local piano teacher and learn to play the piano and make music private piano tutoring.
If you are a piano teacher and wish to be included in this list, please click on add a listing here above and fill in the forms provided, it's free.
Sorry, No Results. Please enter your town in the search box above as there may be someone who covers your area.
Great Harwood, Lancashire
England

I teach piano & violin from my own home in Great

Camden, London
England

Experienced piano teacher and accompanist
Broadwood Barless
Piano Book
Juan Rezzuto, Haydn performer is back to delight

03-10-2020 05:30PM

This concert has been cancelled. Due to the

28-03-2020 06:30PM

WKMT London Piano Studios have just arranged a new

23-11-2019 03:00PM
Did You Know Piano Facts
1350

Towards the middle of the fourteenth century German wire smiths began drawing wire through steel plates, and this method continued until the beginning of the nineteenth century. Iron, gold, silver, brass, gut, horsehair and recently nylon have been used for strings on many different instruments. The earliest use of steel wire occurred in 1735 in Wales, but is not thought to have been used for the stringing of instruments. The Broadwood piano company stated that they were using steel wire in 1815 from Germany and Britain, but this has not been confirmed. According to the Oxford Companion, it was in 1819 that Brockedon began drawing steel wire through holes in diamonds and rubies. Before 1834 wire for instruments was made either from iron or brass, until Webster of Birmingham introduced steel wire. The firm seems to have been called Webster and Horsfall, but later the best wire is said to have come from Nuremberg and later still from Berlin. Wire has been plated in gold, silver, and platinum to stop rusting and plated wire can still be bought, but polished wire is best. In 1862 Broadwood claimed that a Broadwood grand would take a strain of about 17 tons, with the steel strings taking 150 pounds each. There had been many makers, but it was not until 1883 that the now-famous wire-making firm of Roslau began in West Germany. According to Wolfenden, by 1893 one firm claimed their wire had a breaking strain for gauge 13 of 325 pounds. The same maker gives some earlier dates for the breaking strain of gauge 13: 1867 - 226 pounds; 1873 - 232 pounds; 1876 - 265 pounds; and 1884 - 275 pounds. Wolfenden said:"These samples were, of course, specially drawn for competition and commercial wire of this gauge cannot even now be trusted to reach above 260 pounds."