Piano Teachers Giving Piano Lessons in England, Ireland, Scotland, and Wales
Learn to Play the Piano Make Music
Piano Teachers Newcastle under Lyme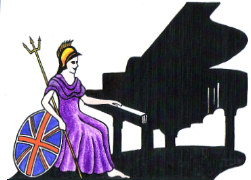 UK Piano Page
Learn to Play the Piano
Need a Piano Teacher?
This is a list of teachers who offer piano, music, and keyboard lessons in the United Kingdom and Ireland. Sorted in county order. Click on your county and this will take you to your nearest qualified piano teacher. Find a local piano teacher and learn to play the piano and make music private piano tutoring.
If you are a piano teacher and wish to be included in this list, please click on add a listing here above and fill in the forms provided, it's free.
Sorry, No Results. Please enter your town in the search box above as there may be someone who covers your area.
Camden, London
England

Experienced piano teacher and accompanist

Great Harwood, Lancashire
England

I teach piano & violin from my own home in Great

Holloway, London N7 6DH
England

PIANO LESSONS FOR ADVANCED STUDENTS WITH HIGHLY
Five London Piano Makers
Brinsmead Challen Collard Danemann Welma
Juan Rezzuto, Haydn performer is back to delight

03-10-2020 06:30PM

This concert has been cancelled. Due to the

28-03-2020 07:30PM

WKMT London Piano Studios have just arranged a new

23-11-2019 04:00PM
Juan Rezzuto, Haydn performer is back to delight

03-10-2020 06:30PM

The Morecambe Bay Piano Group was set up to extend

22-12-2021 02:00PM
Did You Know Piano Facts
Temperament

Temperament is both the process and result of making slight changes to the pitches of a pure musical scale, so that the octave may be conveniently divided into a usable number of notes and intervals. In the history of Western music's 12-note octave tradition, there have been several, fundamentally different forms of temperament applied to the developing keyboard. Music suffers when performed in a tuning that is different than that which the composer used in its creation.

Well Temperament Keyboards

Well Temperament Keyboards may be tuned so that all keys are musically usable, but contain varying degrees of the "wolf". This is the tuning used in this recording. Between the Early Baroque and Romantic eras, the popular tuning was something between Meantone and Equal Temperament. This era was a brief, transitional stage in temperament history, but considering the music composed during this period, its importance cannot be overlooked. This style of tuning is called "Well Temperament" following the use of the term by J.S. Bach. The term refers to a genre, rather than a specific temperament, as there were many Well Temperaments in use between 1700 and 1825.