Piano Teachers Giving Piano Lessons in England, Ireland, Scotland, and Wales
Learn to Play the Piano Make Music
Piano Teachers West Hampstead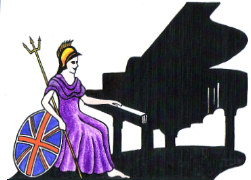 UK Piano Page
Learn to Play the Piano
Need a Piano Teacher?
This is a list of teachers who offer piano, music, and keyboard lessons in the United Kingdom and Ireland. Sorted in county order. Click on your county and this will take you to your nearest qualified piano teacher. Find a local piano teacher and learn to play the piano and make music private piano tutoring.
If you are a piano teacher and wish to be included in this list, please click on add a listing here above and fill in the forms provided, it's free.
Sorry, No Results. Please enter your town in the search box above as there may be someone who covers your area.
Camden, London
England

Experienced piano teacher and accompanist

Great Harwood, Lancashire
England

I teach piano & violin from my own home in Great
Broadwood Barless
Piano Book
Juan Rezzuto, Haydn performer is back to delight

03-10-2020 05:30PM

This concert has been cancelled. Due to the

28-03-2020 06:30PM

WKMT London Piano Studios have just arranged a new

23-11-2019 03:00PM
Buying a piano
Buying a piano is much like buying a house. You have to look around first to find out what exactly you want. By studying what is available both online and in piano shops, auctions, newspaper listings etc, you get a better feel for the kind of the piano you want and how much it is likely to cost. You then visit and try out the pianos. When you buy a house, you get a surveyor to look at it. The surveyor will crush any unrealistic dreams you may have of the house. When you buy a second-hand piano, you get a piano tuner-technician to look at it. A piano is essentially a big box with string in. Unless you are an expert yourself, you won't know what to look for.
You can find many second-pianos for sale on shops websites. Save yourself a trip by asking the right questions via e-mail or by telephone at the piano shop. Has it got a guarantee?
What colour is it?
Is there a photo?
How old is it?
Who were the last owners?
Is there anything wrong with it?
is it tuned up to concert pitch A440?
Who are the makers?
Never buy a piano without trying it out first. It's advisable though not necessary to have a piano technician check it out.