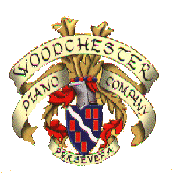 The piano has evolved continuously over the last two and a half centuries. Such are the qualities of today's instruments that the great composers of the past might find themselves inspired to even greater feats by the improved tonal range, touch, speed and flexibility of the modern instrument.
Woodchester Piano Company has staked a firm commitment to traditional methods of manufacture, creating an individual product that is built to last. Over 200 operations are necessary to complete the manufacture of each piano, from the precision casting and drilling of the iron frame, to the skillful carving of the bridge.
Many operations are still carried out by hand, involving the trained eyes and ears of craftsmen, heirs to generations of piano making skills. At the heart of the instrument, the all-important soundboard is crafted from solid spruce, selected from timber grown in the mountains of Central Europe.
Top quality German cross laminated wrest planks are used to ensure tuning stability. The copper-wound strings are of the highest quality, while the British-made felt hammers are hand cured to give a crisp, sure striking action over tens of thousands of keystrokes.
Through continued reliance on craft manufacturing techniques and only the best natural materials, combined with a thoroughly modern approach to business, the name of Woodchester is set to carry on the tradition of fine English piano making for many years to come.
HISTORY
Building on a tradition of fine craftsmanship.
The villages of South and North Woodchester nestle in the wooded Nailsworth Valley, in the heart of that well-connected part of the Gloucestershire Cotswolds known as the Royal Triangle.
Home of the famous Roman Pavement, part of a huge 4th century villa complex, Woodchester also boasts a remarkable example of Victorian gothic architecture, Woodchester Mansion. Designed partly by Pugin, architect of the Houses of Parliament, the half-built house stands today as a unique exhibition of 19th century craft skills. Piano making has been carried on at the historic Woodchester Mills site since 1911, continuing a business founded in London eighty years earlier. The move to the Stroud Valleys followed a path trodden by the Arts and Crafts movement, which flourished around the turn of the century. Inspired by the work of William Morris, busy craft co-operatives brought functional, individual design within reach of the ordinary buyer. Today, their products are much sought after by collectors.
VALUABLE CRAFT SKILLS - A LIVING TRADITION

Piano manufacture has been continuously carried out at Woodchester Mills since 1911 despite a number of major fires and changes of name and ownership.The valuable craft skills have been preserved down through the years, often handed down from farther to son Today, the Woodchester Piano Company manufactures a range of quality, hand-built pianos to meet a growing demand for traditional instruments from the home play market, schools and professional musicians, both in the UK and overseas
It is with regret that the UK Piano Page has to inform you that Woodchester Piano Co,. is no longer producing pianos. If you are looking for history or information on your Woodchester Piano, please ask at our piano forum
Pianos that where made by Woodchester Pianos
Serial numbers to date:
Date
Model 112cm
Model 118cm
Model 122cm
1994
30147
5020
-
1995
30388
5077
-
1996
30762
5177
60038
1997
31238
5259
60105
1998
31548
5305
60183
The Concerto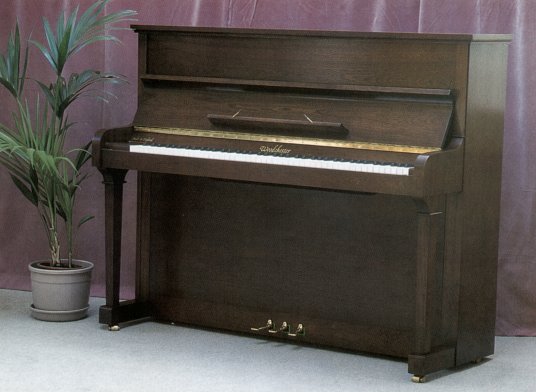 Height 121 cm (47.5")
Width 151 cm (59.5")
Depth 60 cm (23.5")


The Elmore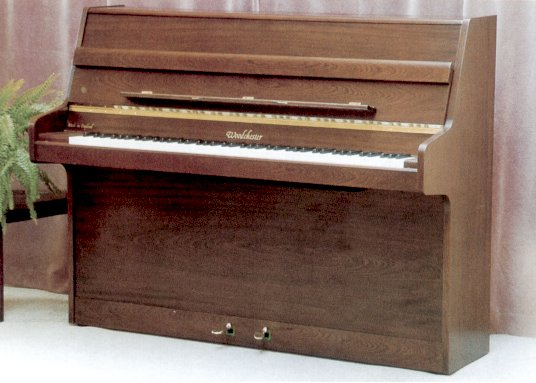 Height 106cm (41.75")
Width 143.5 cm (56.5")
Depth 54 cm (21.5")


The Arlingham Tudor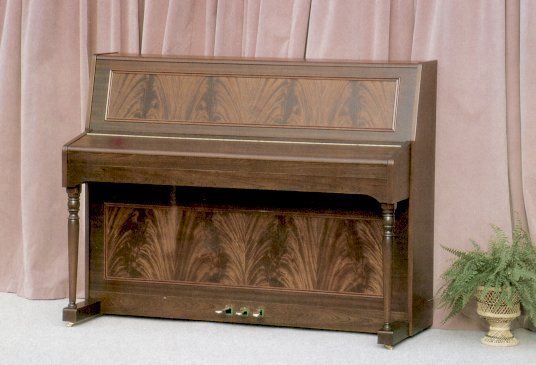 Height 117cm (46")
Width 143.5.5 cm (56.5")
Depth 54.5 cm (21.5")


The Arlingham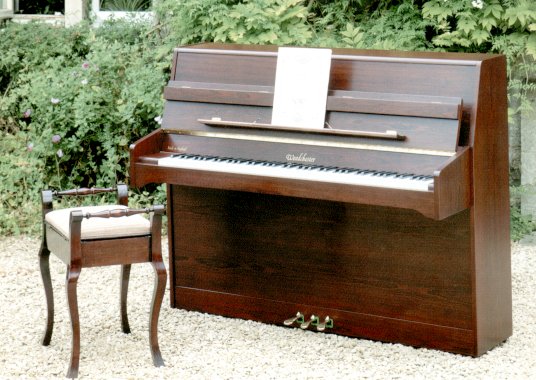 Height 117cm (46")
Width 143.5.5 cm (56.5")
Depth 54.5 cm (21.5")


The Burleigh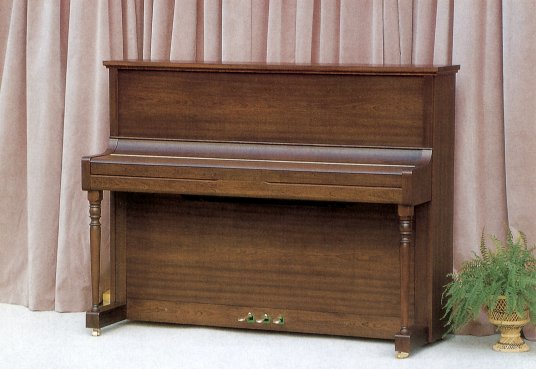 Height 120 cm (47")
Width 152 cm (60")
Depth 57 cm (22.5")


The Cheltenham School Piano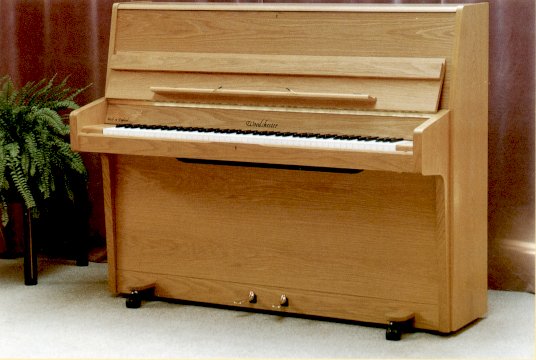 Height 118 cm (46.5")
Width 148.7 cm (58.5")
Depth 58.5 cm (22")
Full 88 note keyboard
Hardwood Fully Braced back.
Safety Castors fitted
Lock
The flagship of our Educational Range is manufactured around an exceptionally sturdy 118cm frame to provide maximum tonal purity and depth. It is fitted with the finest English action to ensure responsiveness of touch and provide optimum playing pleasure.
Our school pianos are made to withstand the rigours of everyday classroom life and still retain their good looks and excellent sound. They all come with extra long desk, locks on fall and top, rounded corners and special castors for stability and ease of movement. A practice pedal is also available as an optional extra.