Piano Teachers Giving Piano Lessons in England, Ireland, Scotland, and Wales
Learn to Play the Piano Make Music
Piano Lessons and Music Theory Teacher in Wilpshire, Blackburn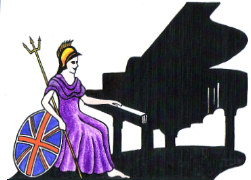 UK Piano Page
Wilpshire Music School
Changing the World through Education
Wilpshire Music School has been established in order to provide students with a rich and diverse learning environment. Our outstanding standards of teaching incorporate Music Theory alongside practical instrumental learning. Wilpshire Music School considers music as a core subject which will aid its student's overall prospects.
Where do Piano Lessons take place?
All music lessons take place at Wilpshire Music School.
How do I book?
The Fastest way to book lessons to email us using the contact page. Alternatively you can call us and leave a message then someone will get back to you as soon as possible.
How often do lessons take place?
Lessons take place on a weekly basis with your music teacher.
Additional User Information
Great Harwood, Lancashire
England

I teach piano & violin from my own home in Great

Camden, London
England

Experienced piano teacher and accompanist
Your Advertisement
Could be here
With a
Paid listing
Juan Rezzuto, Haydn performer is back to delight

03-04-2020 06:34PM

This concert has been cancelled. Due to the

04-11-2019 06:04PM

WKMT London Piano Studios have just arranged a new

24-10-2019 05:39PM
Did You Know Music Facts
Ludwig van Beethoven

Was baptised on 17 December 1770 he was a German composer and pianist. A crucial figure in the transition between the Classical and Romantic eras in Western art music, he remains one of the most famous and influential of all composers. His best-known compositions include 9 symphonies, 5 concertos for piano, 32 piano sonatas, and 16 string quartets. He also composed other chamber music, choral works and songs.

Born in Bonn, then the capital of the Electorate of Cologne and part of the Holy Roman Empire, Beethoven displayed his musical talents at an early age and was taught by his father Johann van Beethoven and Christian Gottlob Neefe. During his first 22 years in Bonn, Beethoven intended to study with Wolfgang Amadeus Mozart and befriended Joseph Haydn. Beethoven moved to Vienna in 1792 and began studying with Haydn, quickly gaining a reputation as a virtuoso pianist. He lived in Vienna until his death. In about 1800 his hearing began to deteriorate, and by the last decade of his life he was almost totally deaf. He gave up conducting and performing in public but continued to compose; many of his most admired works come from this period. in February 1818 Beethoven acepted a piano from Broodwoods England he worte

My very dear friend Broadwood,I have never felt a greater pleasure than your honours intimation of the arrival of this piano, with which you are honouring me as a present. I shall look upon it as an altar upon which I shall place the most beautiful offerings of my spirit to the divine Apollo. As soon as I receive your excellent instrument, I shall immediately send you the fruits of the first moments of inspiration I spend at it, as a souvenir for you from me, my very dear B.; and I hope that they will be worthy of your instrument.

My Dear Sir,Accept my warmest consideration, from your friend and very humble servant, Louis Van Beethoven Vienna,