A Wealth of Information on Pianos, Tuning, Piano History, Makers, Movers,
Teachers, Accompanists and Piano Entertainers in the UK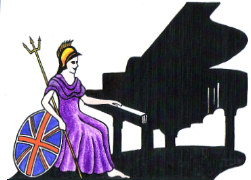 UK Piano Page
Will Hay
Let me take care of the music and entertain the guests at your wedding, civil ceremony, drinks reception or wedding breakfast. If there is no piano at the venue this is no problem as I have a White Roland Stage Piano with portable amplification, ideal to suit different situations. Having played the piano for over 20 years, my repertoire covers a wide range of styles from classical to blues, soul and jazz and I try to blend a variety of these into every performance.
Visit my website (http://weddingpianist.info) to hear samples of my playing.
Did You Know Music Facts
Popular songs for wedding

Beyoncé: "Formation"
Destiny's Child: "Independent Women (Pt 1)"
Katy Perry: "Roar"
Beyoncé: "Single Ladies (Put a Ring on It)"
Alicia Keys: "Girl on Fire"
Spice Girls: "Wannabe"
Missy Elliott: "Work It"
En Vogue: "My Lovin' (You're Never Gonna Get It)"
Blondie: "Call Me"
Martina McBride: "This One's for the Girls"
Janelle Monáe: "Electric Lady"
Nicki Minaj: "Starships"
Destiny's Child: "Jumpin' Jumpin'"
No Doubt: "Just a Girl"
Christina Aguilera, Lil Kim, Mya, and Pink ft. Missy Elliott: "Lady Marmalade"
Beyoncé ft. Jay-Z: "Drunk in Love"
Rihanna: "We Found Love"
Katy Perry: "Teenage Dream"
Iggy Azalea ft. Charli XCX: "Fancy"
Beyoncé: "Run the World (Girls)"
Aaliyah: "Are You That Somebody"
M.I.A.: "Boyz"
Jennifer Lopez: "Get Right"
Kelis: "Milkshake"
Ani DiFranco: "Face Up and Sing"
Dixie Chicks: "Not Ready to Make Nice"
Salt-N-Pepa: "None of Your Business"
Jessie J: "Do It Like a Dude"
Lesley Gore: "You Don't Own Me"
Joan Jett: "Bad Reputation"
The Doubleclicks: "Nothing to Prove"