Piano Teachers Giving Piano Lessons in England, Ireland, Scotland, and Wales
Learn to Play the Piano Make Music
The Piano Practice Professional and qualified Teacher Kensington LONDON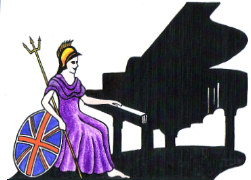 UK Piano Page
Piano and Theory of Music Tuitions to children and Adults all levels.
Preparation to Grade 1 to 8 Exams and Diploma.
Professional and qualified Teacher RCM (B).
Lessons take place at my Studio on weekdays during school term times.
Lessons are given in English, French and Italian to the Pupils choice.
Additional User Information
Did You Know Music Facts
A list of Classical Genres of Music

Avant-Garde
Baroque
Chamber Music
Chant
Choral
Classical Crossover
Early Music
High Classical
Impressionist
Medieval
Minimalism
Modern Composition
Opera
Orchestral
Renaissance
Romantic
Wedding Music