Piano Teachers Giving Piano Lessons in England, Ireland, Scotland, and Wales
Learn to Play the Piano Make Music
Pianist and Piano Teacher in London Sokol Piano Academy Keyboard Lessons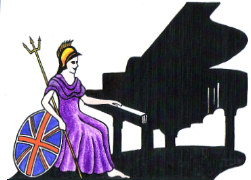 UK Piano Page
Georges Sokol
Georges Sokol has performed in front of large audiences the world over. His vast experience led him to set up the Sokol Piano Academy. The professors there have been trained in-house to teach a unique pedagogical method that exploits the physiology of the hand and finger action to maximum effect. The approach aims to reduce as much physical tension as possible in order to engender natural and energy-efficient playing. This leads to virtuosic and expressive playing in a shorter time than would be expected.
Additional User Information
Camden, London
England

Experienced piano teacher and accompanist

Great Harwood, Lancashire
England

I teach piano & violin from my own home in Great

Holloway, London N7 6DH
England

PIANO LESSONS FOR ADVANCED STUDENTS WITH HIGHLY
Did You Know Piano Facts
What is Piano Tuning

Piano tuning is the art of making minute adjustments to the tensions of the strings of a piano to properly align the intervals between their tones so that the instrument is in tune will all the intervals on the piano. The meaning of the term in tune in the context of piano tuning is not simply a particular fixed set of pitches. Fine piano tuning requires an assessment of the interaction among notes, which is different for every piano because of the different lengths of string and the wooden bridges, thus in practice requiring slightly different pitches from any theoretical standard. Pianos are usually tuned to a modified version of the system called equal temperament. In all systems of tuning, every pitch may be derived from its relationship to a chosen fixed pitch, which is usually A440. Concert pitch Many piano manufacturers recommend that pianos be tuned twice a year.