This is a list of Piano removal companies who specialise in moving pianos
Piano Removals in Ruislip, London HA4 by ROADRUNNERS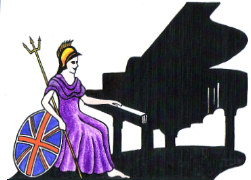 UK Piano Page
ROADRUNNERS
Removal men in Ruislip, Middlesex
Roadrunners are domestic and commercial removal experts based in Ruislip, Middlesex.
We serve clients in the North West London area, helping them move to locations all over the country. We offer traditional removal services as well as specialist removal services such as single item moves and piano moves.
We are also licensed to move and dispose of unwanted furniture items.
As well as house moving services we can also offer storage solutions. The storage containers we offer are ideal for storing furniture and other household items. Please call us to find out more about the storage services we offer.
Benefits of choosing Roadrunners include:
Over 40 years' experience

Highly recommended

A reputable company

A variety of removal options

We move customers all over the country

Storage solutions available

Tail lift vehicles available

Removal and disposal of unwanted furniture

We offer packing services

Piano moving specialists

Local authority approved

Environment Agency approved

Competitive prices
Additional User Information
More London Piano Makers
Chappell, Eavestaff, Rogers, Squire, Knight Hopkinson
Juan Rezzuto, Haydn performer is back to delight

03-10-2020 05:30PM

This concert has been cancelled. Due to the

28-03-2020 06:30PM

WKMT London Piano Studios have just arranged a new

23-11-2019 03:00PM
Did You Know Piano Facts
1709

The year 1709 is the one most sources give for the appearance of aninstrument which can truly be called a "Pianoforte." The writer Scipione Maffei wrote an article that year about the pianoforte created by Bartolomeo Cristofori (1655-1732), who had probably produced four "gravicembali col piano e forte" or harpsichords with soft and loud. This instrument featured the first real escapement mechanism and is often called a "hammer harpsichord." The small hammers were leather covered. It had bichords throughout, and all the dampers were wedge-shaped. By 1726 he seems to have fitteda stop for the action to make the hammers strike only one of twostrings. He had produced about twenty pianos by this time and thenhe is presumed to have gone back to making harpsichords,probably from the lack of interest in his pianos. Three of hispianos remain extant today: one with four octaves, dated 1720, is in NewYork; one with four and a half octaves, from 1726, is in Leipzig,Germany; and there is one in Rome from 1722. There are approximately ten plucked instruments surviving today with the name Cristofori on them.