Piano Teachers Giving Piano Lessons in England, Ireland, Scotland, and Wales
Learn to Play the Piano Make Music
Stirling and Clackmannanshire Piano Lessons at your house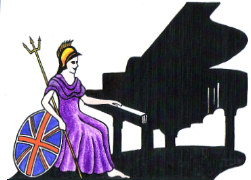 UK Piano Page
Piano Lessons at your house - Friendly Teacher for Adults and Children - Stirling & Clackmannanshire
Experienced and friendly music teacher with a few available time slots. If you are looking to play for a hobby or if you are looking to pass music exams I can help you.
I have previous experience in helping students pass ABRSM and Trinity Guildhall graded exams and have students who now play at Royal Conservatoire of Scotland. I can also help you prepare for music exams in school.
If you are looking for a more relaxed approach I 'm happy teach you your favourite songs and help you to be able to pick up songs by ear.
All lessons are taught at the students house to save you time and inconvenience.
Contact Martin at 07775 714 919
martinhaypiano@gmail.com
Contact Information
Dollar

,

Clackmannanshire

FK14 7DU

Scotland

Mobile:

07775714919

Send Message vCard

Hours
Additional User Information
More London Piano Makers
Chappell, Eavestaff, Rogers, Squire, Knight Hopkinson
Recent Classifieds

H.1
H.
Joseph Haydn piano concerto and W.A. Mozart Violin

28-03-2020 06:30PM

WKMT London Piano Studios have just arranged a new

23-11-2019 03:00PM

6th Annual Piano Competition - AGPMF 2019 Around

23-11-2019 09:00AM
Joseph Haydn piano concerto and W.A. Mozart Violin

28-03-2020 06:30PM

The Morecambe Bay Piano Group was set up to extend

22-12-2021 01:00PM
Did You Know Piano Facts
1711

John Shore was the inventor of the tuning fork. He became a royal trumpeter in 1688 and rose to sergeant trumpeter in 1708. He was also lutenist to the Chapel Royal, appointed in 1706. A lute is aguitar-like instrument with a long neck and a pear-shaped body,much used in the fourteenth to seventeenth centuries. The instrument is notoriously difficult to keep in tune, and Shore devised the tuning fork to help him tune his lute. He died in 1752.