Piano Teachers Giving Piano Lessons in England, Ireland, Scotland, and Wales
Learn to Play the Piano Make Music
Piano Teacher lessons Theory in Pontypridd, Mid Glamorgan CF38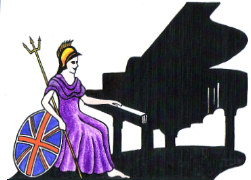 UK Piano Page
Phelps Music Piano Tuition
Face to face and/or online lessons are available (all popular online platforms are offered, including Zoom, Skype, FaceTime and WhatsApp etc.)
Often praised for his friendly and encouraging approach to teaching, Dan specialises in Piano, Music Theory (up to Grade 5) and Composition and delivers over 1,000 individual music lessons per year.  Workshops and masterclasses are also provided. You can either learn for fun or work towards music exams. Dan has a full and up to date DBS certificate and Public Liability Insurance. 
Additional User Information
Camden, London
England

Experienced piano teacher and accompanist

Great Harwood, Lancashire
England

I teach piano & violin from my own home in Great
Did You Know Piano Facts
1730

The firm of Kirkman piano makers was founded in 1730, according to the Pierce Piano Atlas. However, Kirkman inherited the business from Tabel's wife, whom he married one month after Tabel's death. Tabel was a harpsichord maker who trained with Ruckers. He came to London in 1680 and set up making harpsichords. Abraham Kirkman, who was born in 1710 inBischweiler near Strasbourg, came to work for Tabel. In 1742 hemoved to Great Pulteney Street. These are some later dates and locations for him:
(1817) (Grand Pianoforte Maker to Her Majesty and H.R.H. The PrinceRegent)
(1818-1832) (Grand Pianoforte Maker to His Majesty) 19 Broad Street,Golden Square
(1822-1896) Kirkman, Joseph (Junior) 67 Frith Street, Soho
(1831) 3 Soho Square
(1846) 9 Dean Street
(1848) DuLour's Place, Golden Square
(1864) 21 Broad Street, Golden Square
(1894) 12A George Street, Hanover Square
They had associates with Collard who were based at 50 Bond Street,London, the same as Chappell. There is a fine example of a Kirkmanharpsichord at the Colt Clavier private collection. In 1896Georgiana Kirkman sold the business to Collard's at cost.