A Wealth of Information on Pianos, Tuning, Piano History, Makers, Movers,
Teachers, Accompanists and Piano Entertainers in the UK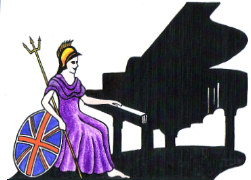 UK Piano Page
Why is the position of my listing changing up and down
We use different Algorithms to list listing in browse and search; they are:
Priority,

Apherbetal A- Z,

Age oldest,

Age Newest,

Random.
We rotate them once a month. We do this to give all free and new listings a chance at the top of the list; however, a free listing is always below paid listings and Tuners.
The Modern Piano

A book which aims at an explanation of the piano as we know it today
for only £20.00 + PP
Juan Rezzuto, Haydn performer is back to delight

03-10-2020 06:30PM

This concert has been cancelled. Due to the

28-03-2020 07:30PM

WKMT London Piano Studios have just arranged a new

23-11-2019 04:00PM
Did You Know Piano Facts
Temperament

Temperament is both the process and result of making slight changes to the pitches of a pure musical scale, so that the octave may be conveniently divided into a usable number of notes and intervals. In the history of Western music's 12-note octave tradition, there have been several, fundamentally different forms of temperament applied to the developing keyboard. Music suffers when performed in a tuning that is different than that which the composer used in its creation.

Well Temperament Keyboards

Well Temperament Keyboards may be tuned so that all keys are musically usable, but contain varying degrees of the "wolf". This is the tuning used in this recording. Between the Early Baroque and Romantic eras, the popular tuning was something between Meantone and Equal Temperament. This era was a brief, transitional stage in temperament history, but considering the music composed during this period, its importance cannot be overlooked. This style of tuning is called "Well Temperament" following the use of the term by J.S. Bach. The term refers to a genre, rather than a specific temperament, as there were many Well Temperaments in use between 1700 and 1825.