A Wealth of Information on Pianos, Tuning, Piano History, Makers, Movers,
Teachers, Accompanists and Piano Entertainers in the UK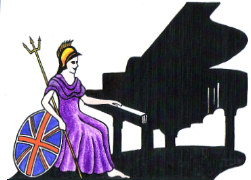 UK Piano Page
Five London Piano Makers
Brinsmead Challen Collard Danemann Welma
Juan Rezzuto, Haydn performer is back to delight

03-04-2020 06:34PM

This concert has been cancelled. Due to the

04-11-2019 06:04PM

WKMT London Piano Studios have just arranged a new

24-10-2019 05:39PM
Did You Know Piano Facts
1157

Around the middle of the twelfth century we find the keyed monochord, which was developed further, several strings being added, until eventually we recognize the clavichord. A tangent was fitted to the back of each key, which when raised contacted the single string, and facilitated simultaneous notes. The tangent acted as a bridge determining the speaking length of the string. A mute was fitted to the non-speaking length, so when the key was released the note stopped singing.