Piano Teachers Giving Piano Lessons in England, Ireland, Scotland, and Wales
Learn to Play the Piano Make Music
Piano Movers in Ashford, Kent by Colin Batt Removals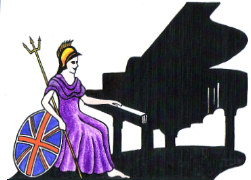 UK Piano Page
Colin Batt Removals
Piano Moving Specialists
Colin Batt Removals are specialist piano movers and we have been moving your pianos since 1978. We have moved thousands of pianos over the years, from uprights through windows and grands up spiral stairs, and our many customers have included Elton John, The Royal Collection Trust and even Beethoven. Colin Batt Removals was the piano mover selected to move Beethoven's original piano, made by John Broadwood & Sons, on a Europe-wide tour. The Beethoven piano is one of the oldest and most valuable instruments in the world, and we gave it the extraordinary level of care it deserved, just like we do with every piano we move.
Colin Batt Removals has built up an outstanding reputation by providing an exceptional piano removals service throughout our history and we are now the first choice for many quality piano dealerships throughout Kent, London and the South East. Many top dealers would use no-one else, with the result that we are often asked to tackle challenges that no other piano mover will take on. We have the skills, passion and experience to take care of your piano and for extra peace of mind all our pianos moves are ful
Woodacre Farm, Warrington Road
Statham
Lymm, Cheshire WA13 9BT
England

Cheshire Pianos has an experienced and dedicated

95 Strongbow Crescent
City of London, London SE9 1DW
England

AMH Pianos Services London Offers Piano Removals
More London Piano Makers
Chappell, Eavestaff, Rogers, Squire, Knight Hopkinson
Juan Rezzuto, Haydn performer is back to delight

03-10-2020 06:30PM

This concert has been cancelled. Due to the

28-03-2020 07:30PM

WKMT London Piano Studios have just arranged a new

23-11-2019 04:00PM
Juan Rezzuto, Haydn performer is back to delight

03-10-2020 06:30PM

The Morecambe Bay Piano Group was set up to extend

22-12-2021 02:00PM
Did You Know Piano Facts
1709

The year 1709 is the one most sources give for the appearance of aninstrument which can truly be called a "Pianoforte." The writer Scipione Maffei wrote an article that year about the pianoforte created by Bartolomeo Cristofori (1655-1732), who had probably produced four "gravicembali col piano e forte" or harpsichords with soft and loud. This instrument featured the first real escapement mechanism and is often called a "hammer harpsichord." The small hammers were leather covered. It had bichords throughout, and all the dampers were wedge-shaped. By 1726 he seems to have fitteda stop for the action to make the hammers strike only one of twostrings. He had produced about twenty pianos by this time and thenhe is presumed to have gone back to making harpsichords,probably from the lack of interest in his pianos. Three of hispianos remain extant today: one with four octaves, dated 1720, is in NewYork; one with four and a half octaves, from 1726, is in Leipzig,Germany; and there is one in Rome from 1722. There are approximately ten plucked instruments surviving today with the name Cristofori on them.