Search found 12 matches
Search found 12 matches • Page 1 of 1
by LarryS

30 Jun 2017, 21:39
Forum: Piano Showcase
Topic: Gavotte
Replies: 1
Views: 6771
I've been teaching myself to read music from the Classic Piano Course by Carol Barrat -I normally play by ear but I decided I'm missing out by not being able to read sheet. I get to practice for at least half hour each day since moving the piano and my playing is coming along! This piece is called G...
by LarryS

28 Feb 2016, 15:44
Forum: Piano Advice
Topic: So Broadwood lives on!?
Replies: 3
Views: 5788
I read previously that the company Broadwood & Sons stopped making pianos a while ago, yet I visited the site of Yorkshire Pianos yesterday and amongst the makers of new pianos is Broadwood, with a few in its range. Are they actual Broadwoods or in name only, like Kemble? http://www.yorkshirepia...
by LarryS

03 Jul 2015, 20:02
Forum: Piano Advice
Replies: 4
Views: 6823
Hi there, The Bosworth gold lettering on the right side of the lid is not the maker's name.... this will be a previous retailer/ piano shop who sold the piano. This lettering is often used as an advertisement for the shop. Unless the name has been removed during a re-polish - this will be in the mi...
by LarryS

06 May 2015, 23:17
Forum: Piano Showcase
Topic: my tribute to Erroll Brown
Replies: 0
Views: 5823
I heard earlier that Erroll Brown has died, lead singer of pop group Hot Chocolate who had hits in the 70s with songs like You Sexy Thing. I have always liked this slow ballad of his called Put You Together Again, in which the keyboard player played on a white baby grand in the original video. RIP P...
by LarryS

11 Apr 2015, 15:58
Forum: Idle Chitchat
Topic: Whinge of the day
Replies: 53
Views: 53135
Ok so I register to this other forum (non piano) and I got the first email , click on this link to confirm blah blah. Great. But cant login because my account needs to be activated. Second email due. Nothing. Try to login, no joy, and a message saying Contact the administrator. Except you need to be...
by LarryS

10 Apr 2015, 00:37
Forum: Idle Chitchat
Topic: Introduce yourself!
Replies: 117
Views: 156715
And I'm Larry's piano!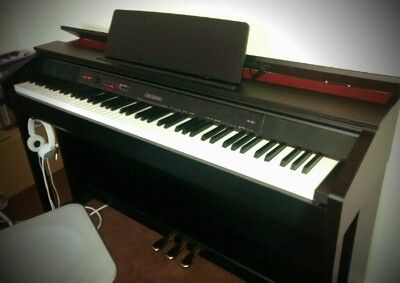 by LarryS

09 Apr 2015, 13:55
Forum: Idle Chitchat
Topic: Introduce yourself!
Replies: 117
Views: 156715
Hi everyone, I'm Larry and I'm a pianoholic! Ive been tinkering with various keyboards since I was a kid but always wanted a piano. Well following a house move I got a Casio Celviano AP450 as a Christmas present for the next two years. And its brill! Im teaching myself piano slowly, and can play any...
Search found 12 matches • Page 1 of 1