Piano Teachers Giving Piano Lessons in England, Ireland, Scotland, and Wales
Learn to Play the Piano Make Music
Pianist for Events, Weddings parties in London Epsom Surrey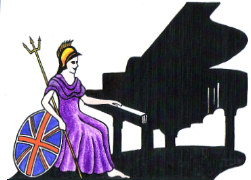 UK Piano Page
Pianist for Events, Weddings
I am Nathan Harris - a professional pianist available for all event and occasions. I have played for many weddings and functions across London and Surrey over the last two decades. Can play all styles tailored to suit your event. Can travel to south London, Surrey and central London. Recently played for parties/receptions this year in Weybridge, Stratford, and Canary Wharf. Audio tracks of my playing available online to hear.

I can play all styles to suit your day or evening. Cocktail/lounge music, jazz, rock, pop, light classical, ballads etc. Anything can be played, from the Beatles to Frank Sinatra/Ratpack, to current pop ballads to mellow classical.

I play regularly at a well known National Trust stately home in Surrey.

I have also played at many prestigious venues such as Denbies Vineyard, Nutfield Priory, Cannizarro House, Shepperton Studios, Kensington Roof Garden. I have been a professional pianist, teacher, and composer for over 25 years.

I am happy to discuss your exact requirements for your event.

My rates are very reasonable and competitive, and I often play for longer with no extra charge. As stated above, I can provide a link to audio tracks so you can hear samples of my playing.
Broadwood Barless
Piano Book
Recent Classifieds

H.1
H.
Joseph Haydn piano concerto and W.A. Mozart Violin

28-03-2020 06:30PM

WKMT London Piano Studios have just arranged a new

23-11-2019 03:00PM

6th Annual Piano Competition - AGPMF 2019 Around

23-11-2019 09:00AM
Joseph Haydn piano concerto and W.A. Mozart Violin

28-03-2020 06:30PM

The Morecambe Bay Piano Group was set up to extend

22-12-2021 01:00PM
Did You Know Piano Facts
What is the difference between Overdamping and Underdamping?

Overdamping is a system whereby the piano damping mechanism (the bit that shuts the piano up) is situated above the hammer strike line. Underdamping is where the piano dampers are placed below the hammer strike line. Advantages and disadvantages. Overdamping. Imagine an elastic band three-foot long, you twang it and then put your finger near to the end of the elastic band, to stop it vibrating. This is overdamping.

Take the same elastic band and place your finger near the centre to stop it from vibrating this is underdamping, which of course is more efficient. Overdamping is controlled by gravity where as underdamping is controlled by adjustable springs so on the whole underdamping is far more efficient than overdamping. However, there is one disadvantage with underdamping. That is, if the dampers are incorrectly aligned to the nodes and antinodes of the vibrating string this will result in, the dampers when they come in contact with the string, emphasising certain harmonics on the piano, thus giving you a harmonic ring, this is more common on small uprights and small grandís as the margin of tolerance decreases as the piano becomes smaller.