A Wealth of Information on Pianos, Tuning, Piano History, Makers, Movers,
Teachers, Accompanists and Piano Entertainers in the UK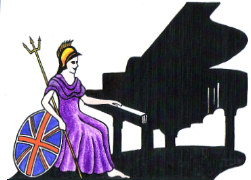 UK Piano Page
The Broadwood Barless Piano Talk
Overview
Date Submitted: 03-02-2018 01:10PM
No upcoming event dates.
Description
100 years of Broadwoods Barless Grand a Talk by Alastair Lawrence MD of Broadwood pianos
Admission/Ticket Details
Free
Location
Location: Mercure Shrewsbury Albrighton Hall Hotel and Spa Ellesmere Rd, Albrighton, Shrewsbury SY4 3AG
Venue Name: Albrighton Hall Hotel and Spa
Other events from Mr Barrie Heaton Dip. AEWVH, FABPT, FIMIT, CGLI (hon.), MMPTA (usa), MUEPB,.