A Wealth of Information on Pianos, Tuning, Piano History, Makers, Movers,
Teachers, Accompanists and Piano Entertainers in the UK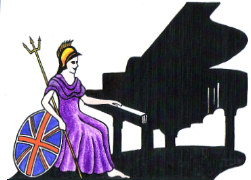 UK Piano Page
Piano 4 Hands Clitheroe Concerts Society
Overview
Date Submitted: 24-11-2017 09:32PM
Last Updated: 24-11-2017 09:42PM
No upcoming event dates.
Description
Mozart Andante with Variations in G major KV501
David Matthews Variations on a theme of Haydn Op. 144
Schubert Fantasy in F minor D940
Debussy Petite suite
Prokofiev Classical Symphony (arr. Piano 4 Hands)
Ravel La Valse
Image
Location
Location: Sixth Form Centre, York Street, Clitheroe, BB7 2DJ, Grid Reference SD745421.
Venue Name: Clitheroe Royal Grammar School