A Wealth of Information on Pianos, Tuning, Piano History, Makers, Movers,
Teachers, Accompanists and Piano Entertainers in the UK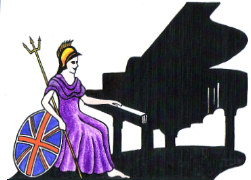 UK Piano Page
Aguirre and Tonelli
Overview
Date Submitted: 15-05-2018 08:02PM
No upcoming event dates.
Description
Two amazing pianists united. Carolina Aguirre Anderson will personify the spirit of the Argentinian Folk Music. Aleksandra Tonelli will be the Tango.

This musical Evening is aimed to be fabulous. Fantastic music, academic music, a lot of Latinamerican passion and two warm-hearted musicians on stage.
Admission/Ticket Details
£15
Location
Location: 50 Philbeach Gardens Earls Court London SW5 9EB
Venue Name: St. Cuthbert's Philbeach Gardens
Other events from JUAN REZZUTO BMUS - FTCL AND WEST KENSINGTON MUSIC TEAM