Piano Teachers Giving Piano Lessons in England, Ireland, Scotland, and Wales
Learn to Play the Piano Make Music
Piano Teacher Teaching piano and keyboard in Sutton-in-Ashfield, NG17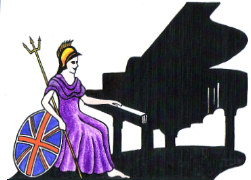 UK Piano Page
Derek Hartwell A.R.C.M.,A.R.C.O.,A.L.C.M.
Teacher of piano, classical organ, theory and musicianship. All levels taught to children and adults from beginner to diploma. All exam. grades prepared for
Additional User Information
Great Harwood, Lancashire
England

I teach piano & violin from my own home in Great

Holloway, London N7 6DH
England

PIANO LESSONS FOR ADVANCED STUDENTS WITH HIGHLY

Camden, London
England

Experienced piano teacher and accompanist
Broadwood Barless
Piano Book
Juan Rezzuto, Haydn performer is back to delight

03-10-2020 06:30PM

This concert has been cancelled. Due to the

28-03-2020 07:30PM

WKMT London Piano Studios have just arranged a new

23-11-2019 04:00PM
Juan Rezzuto, Haydn performer is back to delight

03-10-2020 06:30PM

The Morecambe Bay Piano Group was set up to extend

22-12-2021 02:00PM
Did You Know Piano Facts
1730

The firm of Kirkman piano makers was founded in 1730, according to the Pierce Piano Atlas. However, Kirkman inherited the business from Tabel's wife, whom he married one month after Tabel's death. Tabel was a harpsichord maker who trained with Ruckers. He came to London in 1680 and set up making harpsichords. Abraham Kirkman, who was born in 1710 inBischweiler near Strasbourg, came to work for Tabel. In 1742 hemoved to Great Pulteney Street. These are some later dates and locations for him:
(1817) (Grand Pianoforte Maker to Her Majesty and H.R.H. The PrinceRegent)
(1818-1832) (Grand Pianoforte Maker to His Majesty) 19 Broad Street,Golden Square
(1822-1896) Kirkman, Joseph (Junior) 67 Frith Street, Soho
(1831) 3 Soho Square
(1846) 9 Dean Street
(1848) DuLour's Place, Golden Square
(1864) 21 Broad Street, Golden Square
(1894) 12A George Street, Hanover Square
They had associates with Collard who were based at 50 Bond Street,London, the same as Chappell. There is a fine example of a Kirkmanharpsichord at the Colt Clavier private collection. In 1896Georgiana Kirkman sold the business to Collard's at cost.