CHAPPELL PIANOS
LONDON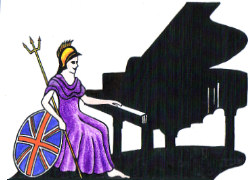 UK Piano Page
It is with regret that the UK Piano Page has to inform you that Kemble Pianos, is no longer producing Chappell pianos. Kemble license to manufacture Chappell pianos has ended on 1.4.2000,

If you are looking for the history of Chappell pianos or to find out the age of your piano, please go here Chappell Piano History
Part of the UK Piano Page
Chappell's was founded in 1811 by Samuel Chappell, Francis Tatton Latour, and John Baptist Cramer. Cramer was a highly fashionable pianist, composer, and teacher of the pianoforte. One of the company's first publications was by Cramer, "Studies for the Pianoforte," which has had many editions since the first publication. In 1812 Chappell targeted the nobility and gentry for sales of musical instruments. The company opened a special room and called it the "Ware room," which they the advertised in local papers. In this room they displayed cabinet pianos, squares and grands. The pianos sold at this time were not made by Chappell, but they used the fact that Messrs. Cramer and Latour had personally selected each of the instruments; this was a huge advantage over the rival retail outlets.